Sires behind our Breeding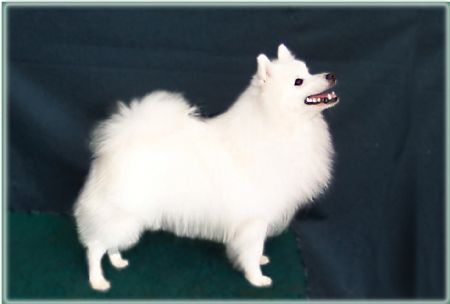 Picture of Ch HINDCROSS TAISHO (Imp UK)
THE NAME behind 4 Australian Grand Champions, SUPREME Champions and around 100 Champions
Dearly loved by the late Hilary Stephens of Abaseiko and Aldith Graves (KoFuji), Taisho was entrusted to us by Mrs Liz Trowbridge of Hindcross Kennels in the United Kingdom.
Taisho, with his soundness, unbeatable temperament and style, has added much to Japanese Spitz breeding in Australia.
Sire or Grand-Sire to 4 grandchampions: AustGrCh Daesdaemar Lovers Lane, AustGrCh and Norweigan Ch Daesdaemar Secret Affair (exp Nor) , AustGrCh Daesdaemar Lovesong
-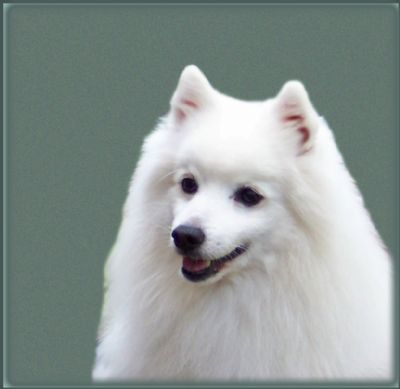 & AustGrCh Shanspitz Sela Blvd of Sun. We congratulate them all on their beautiful Japanese Spitz.
Taisho has also sired or grandsired champions to the Abaseiko kennels (HIlary Stephens and now Kerry Semmens), KoFuji (Aldith Graves) , Itoshii (Sue and the late Ian Templeton- Geelong Vic), Coleisha (Beth Coleman -Hobart), Ian and Irene Harte (Vic), Noelmara (Noel and Mara Atherstone (Vic), Daesdamear (Amanda Huggins - Sydney), Mannerking (Deborah King - Goulburn), Snowillo (Carolyn Williams- Bathurst), Shanspitz (Shannon Watherston - Qld) and a number of other breeders.
Taisho's excellent pigmentation, high tail-set, SUPERB TEMPERAMENT, and excellent confirmation have added much to the modern Australian style of Japanese Spitz. Taisho came into the country when the breed standard had just been changed from 10-15 inches down to the 12-14 inches for dogs and bitches a bit smaller. It has now been revised to allow dogs to be 14.5 inches.
He brought an ability for breeders of large heavy boned Japanese Spitz to downsize in proportion and with all the confirmation of the dog and its proportions maintained. (i.e. without dumpy legs, or longer coupling at the hind- end with the 10 to 11 proportions maintained.)
His temperament is incomparable and truly excellent and has been passed on to his offspring.
Taisho's offspring are the true smooth & light gaited, high tailed, well pigmented Japanese Spitz of today with many many show and companion dogs bred to his standard.
Sparingly shown, Taisho is the true English-Gentleman dog.
You could never want for a better companion dog, show boy or friend for a Japanese Spitz.
A truly wonderful dog and so much fun to live with, be you Japanese Spitz or human !!