KoFuji's Puppies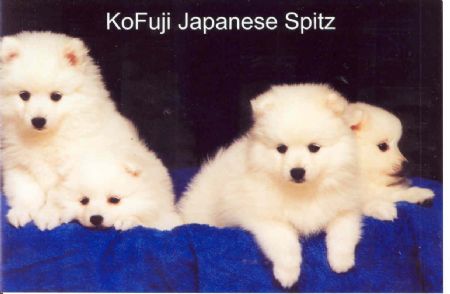 Our puppies are raised in the house and given many life experiences before leaving home.
We very carefully select puppies' parents who are screened for good health, tight patellas and excellent temperaments. Because we strongly believe that Japanese Spitz should be available as family pets, we require that new owners commit to neutering their pup and take them to school and socialisation classes as a condition of sale. If you don't want to do this, or don't have time to go to school, then this is not the breed for you.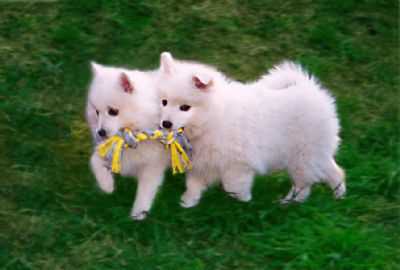 The first line in the Japanese Spitz standard is 'chary with strangers' which is why schooling and socialisation (particularly between 9-26 weeks at least) is so important to set the foundation for your dog's confidence. This is your job as the new owner. I can sell you a puppy raised with all the confidence in the world, but if it's not reinforced the puppy loses it. Pups also go through an 'adolescent phase' so it is important to continue to do routine training and socialisation to help them through the frights this stage brings.
Our pups are raised with adult Japanese Spitz and run around with them from 4wks - with no fear. The adults (male & female) accept the pups running, climbing, jumping on them, biting and chewing them - & gently discipline them as they grow older.
We use Pat Hasting's Theory of Sevens to train the pups - 7 new surfaces, 7 people, 7 foods, 7 experiences, 7 games, 7 noises, 7 household tasks,7 kinds of music & TV, 7 new tricks etc. We also use 'Tellington Touch' exercises and neurological stimulation from birth to improve their learnng capacity and sociability. This is because we have time to do so and because I particularly enjoy the interaction with mothers & their pups.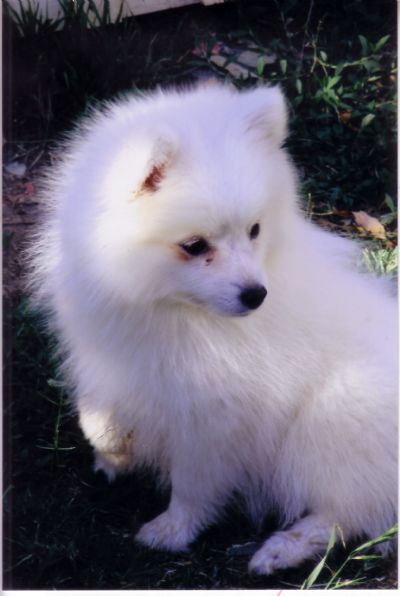 Your puppy is the same breeding that we would want for ourselves in a show and companion dog. Those that are not kept for showing or breeding go as family pets - as we believe that Japanese Spitz make a great family dog in the right situation. Our breeding reflects our wish that they will be as healthy and stong and well temperamented as possible.
You will be asked many questions about your lifestyle, including the hours you work, your availability to train the dog, what you do for recreation and so on. This is to match the temperament of the pups with your family's lifestyle & make the best fit possible. We want our pups to have 'forever homes' for 14-15 years and never to be abandoned & these questions help to elicit part of that match.
Japanese Spitz sometimes are not the ideal 'first dog' for a family.
Also we believe that the ONLY TIME TO HAVE A PUPPY IS WHEN YOU ARE READY FOR THE PUP AND NOT JUST BECAUSE IT IS AVAILABLE NOW.
OUR PUPS:
Our pups are wormed, vaccinated and microchipped prior to departure.
We prefer new owners to pick their pup up from Canberra as they can meet the canine family and see how the pup will grow up. It also avoids any problems with internet transactions. However, we can send pups interstate by road or air at the new owner's additional expense. Pups travel well as they have been out and about since they were 4wks in the car and will bound out of a crate to the new owner to say 'hello how are you I'm your new pup!! '
We provide you with a BOOKLET on raising your pup and a SHOPPING LIST for purchases prior to pup's arrival. These are on the Documents to print page for you to see and print before your pup arrives. We ask that you send us some old clothing that smells like the new family to put in with the puppies in the weeks before they leave to ease the trauma of leaving home. Pups take something that smells of the litter with them for the same reason.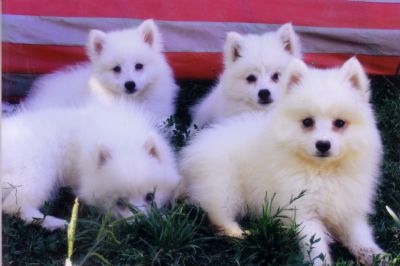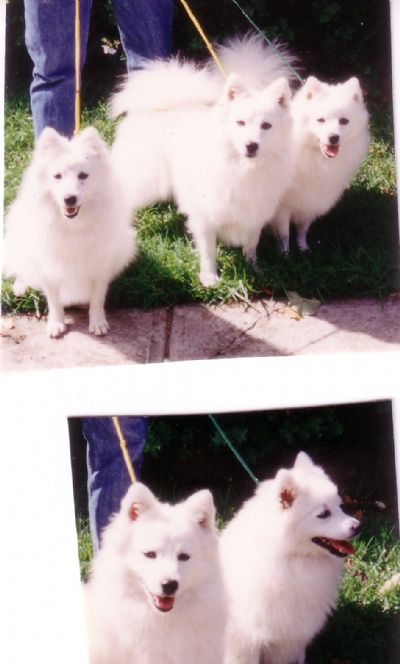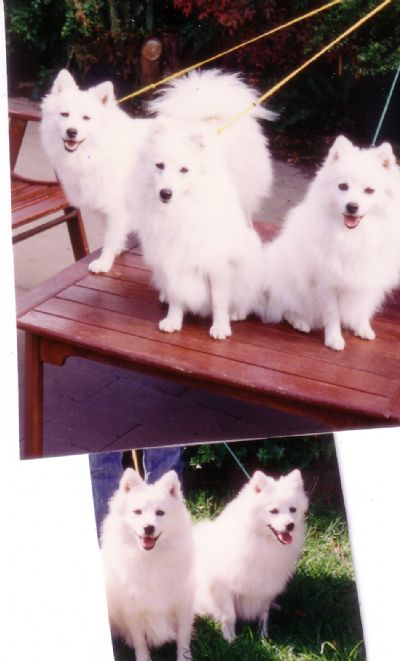 These are their progenitors - ABASEIKO Knls
bred by the wonderful late Hilary Stephen