Yoko Yamamato's Dog Art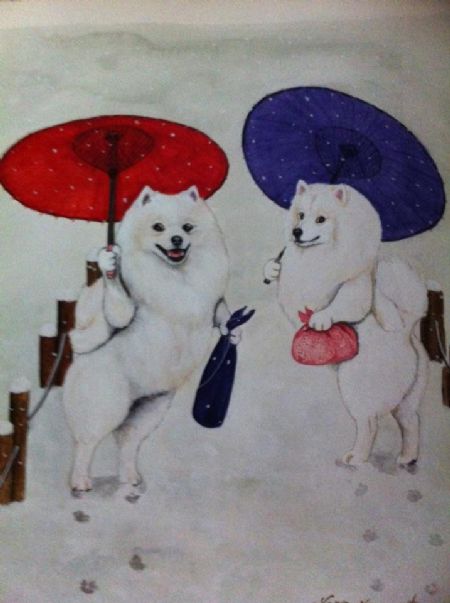 I was fortunate to be able to purchase the original of the above painting by the late Ms Yoko Yamamoto from Japan.
It is a truly magnificent piece of artwork which I will treasure forever.
She gave permission for it to be displayed as part of my website.
I also own 5 other original paintings and several other prints of her pictures & treasure each and every one of them. Also several other forms of art work made by Yoko featuring my beloved Japanese Spitz.
I am honoured to be considered as a special collector outside Japan of her original Japanese Spitz artwork.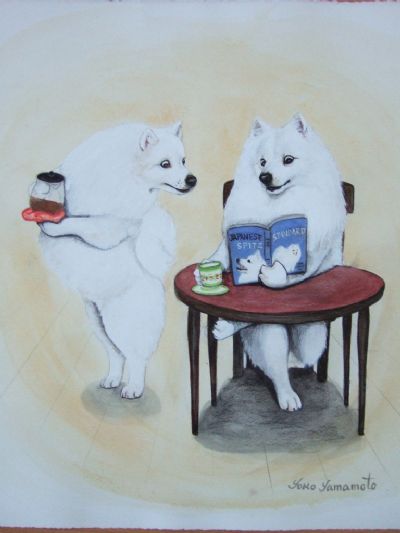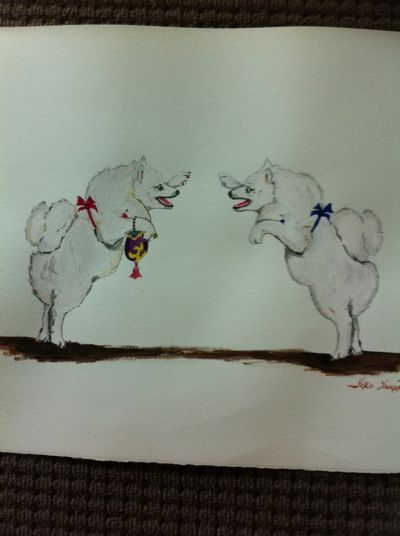 Copies of the prints of these works are available for purchase at
www.puddlebyart.com.au/
* * * * * * * *
Yoko Yamamoto – Artist and painter
.
Yoko Yamamoto was born in Tokyo in Japan.
Yoko was interested in painting and making plastic figures from childhood. Since then Yoko developed many skills and she worked in many different art forms.
Yoko focused on painting dogs and other animals for more than 40 years. Paintings of personified dogs are neither cartoons nor realistic pictures.
They were her own original style. These heart-warming works have many fans all over the world.
She also published many kinds of Dog Standard Books for the Japan Kennel Club and also produced dog statue collections for the Japan Kennel Club.
Her works were exhibited in Japan & the United States of America.
In 1986, Yoko was awarded the Special Prize of the American Dog Association. In 1987, she presented her work 'Dogs Orchestra' to the Takamadonomiya Family (Japanese Emperor`s relatives). Since then, Yoko did some art works for the Japanese royal family as private commissions.
Takeshi Kitano (a now famous and established movie director in Japan) used her work, 'Five Dogs', in his Y-2000 movie 'The Wives of Gangsters'.
Yoko also worked in different forms of dog art.
I consider her a very special friend with a big place in my heart
***The Biographical information above came from the Puddlebyart site***