Current puppies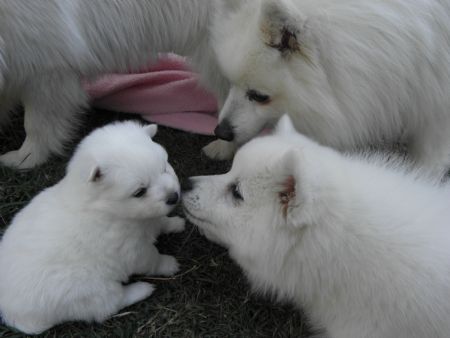 Photo of puppy aged 4 weeks taken in 2011
ALL OUR PUPS MUST BE NEUTERED AT 6 MONTHS
AS they are SOLD AS PETS -
and are not for breeding or showing OR EXPORT
Their CANINE PAPERS ARE MARKED "Neutered"
WE WON'T BE HAVING PUPS FOR SOME TIME AS I AM UNWELL AT THE MOMENT AND MY DOGS HAVE BEEN FOSTERED OUT UNTIL I AM BACK TO FULL HEALTH
Pics below of some of the pups - being babysat by aunties - with one-on -one time with a granny and some of the bubs in their bed..the others hiding on the other heat mat..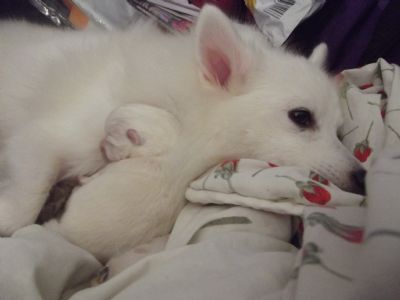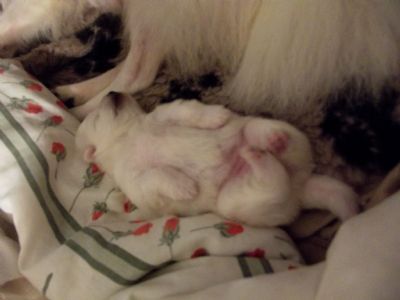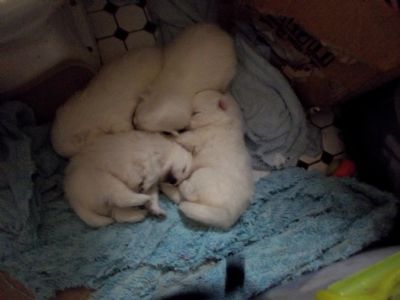 They are microchipped and vaccinated.
* * * * * * * * * * * * * * * * * * * * * * * * * * * *

Specializing in FAMILY PETs, we focus on TEMPERAMENT & healthy STRUCTURE of the dog & then long hair.

Japanese Spitz need to be given TRAINING & SOCIALISATION when young to set the dog's confidence & learning abilities for life - if you don't have time to do this, this is not the breed for you. I can sell you a well socialised pup but THE REST(most important) IS UP TO YOU to reinforce this.
We require our family pets to be NEUTERED as a condition of sale, some have been done already.

Our pups live in the house getting them ready for all the daily noise & activity your pup should have at your new home. They spend much time with adult dogs who dote on them. The pups are confident in their interactions with adults.
We recommend you visit & meet the parents, but can send pups by road or airfreight at your additional expense to new homes.

Pups are wormed and vaccinated and come with instructions for daily life.
Japanese Spitz shed once or twice a year, so if hair loss causes grief this is not the right pup for you.

Email me at [email protected]
if you're interested AND leave a telephone number to return your call.
We love this breed but they are not suitable for everyone so I will ask about your lifestyle to match the pups temperament
These are pictures of the previous litters that have gone to new homes
pictures taken 28 July 2011 below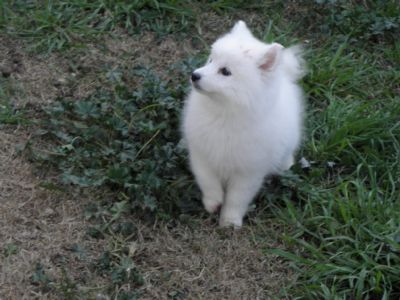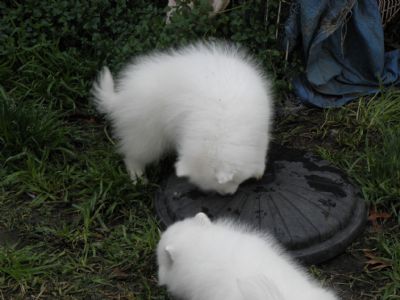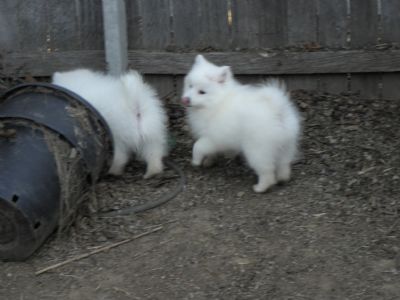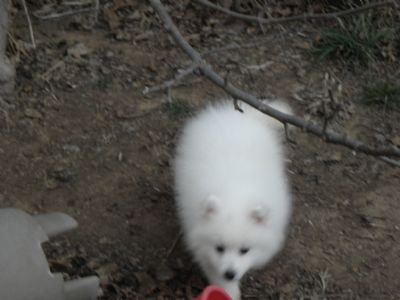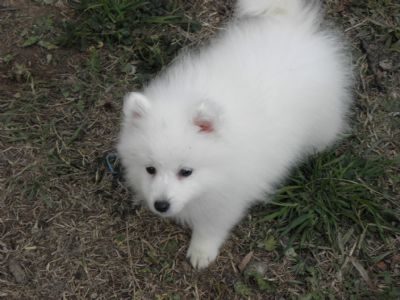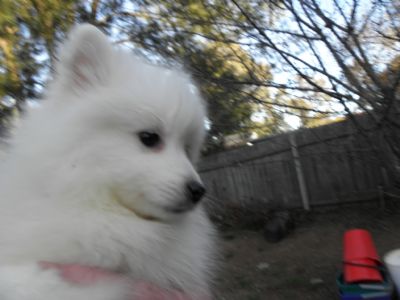 General information for potential puppy owners
* * * * * * * * * * * * * * * * *
I understand that parvo-virus is prevalent at the moment and you will need to be careful talking a pup home and having it out before it has its final shots.
* * * * * * * * * *
Fleas
When required our vet recommends Comfortis tablets - once a month - if necessary when they leave home and this regime needs to continue for 3 months at least, depending on whether your location also has increased flea activity. The regime is systemic rather than an external application of medication. It won't matter how many times the pup has to be washed during this time as Comfortis works through the blood system. This should be taken with a meal with some fat in it for best effect.
* * * * * * * * *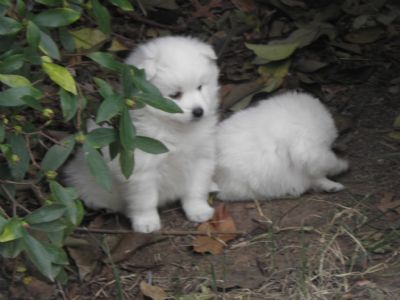 * * * * * * * * *
Please contact me by email on [email protected] with details about yourself and a telephone number for me to call you back to talk about puppies. Please put 'Japanese Spitz' in the header so it doesn't go to the SPAM box . ANYTHING THAT LOOKS SUSPECT DOES NOT GET OPENED & IS DELETED
PLEASE NOTE :
ALL OUR PUPS MUST BE NEUTERED AT 6 MONTHS AS they are SOLD AS PETS -
their CANINE PAPERS ARE MARKED "Neutered" and are not for breeding or showing