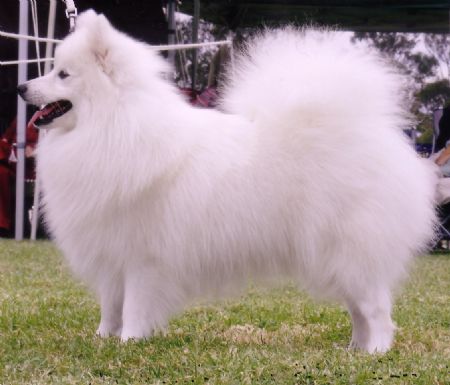 KoFuji Japanese Spitz
Breeding for the Future: Temperament, Soundness, Style
KoFuji Japanese Spitz is a small kennel, located in Canberra ACT. We focus on producing excellent quality Japanese Spitz puppies largely for ourselves. The rest of the litter is placed in suitable family homes. The puppy you get is the same breeding as the show-dog or breeding dog that we keep.
We believe that it is important to breed for the best temperaments possible, while focussing on maintaining a good healthy structure of the dog (for health & the futurity of the breed) and thus aim to produce pups to the prescribed breed standard. While we would like to have longer coats on our dogs, we prefer to focus on temperament and health factors above while demonstrating the distinctive KoFuji high quality standard that is our style.
We do not rely heavily on close line-breeding (as many breeders do) and over the last 20 years have sourced sires from overseas and used others' imports to add to our quality Australian stock. Currently we have two distinct bitch lines in the kennel which have been bred with these sires and continue to survive to the present. Our original stock was from the well-known ABASEIKO Knls of late Hilary Stephen and we have continued to breed to her high & exacting standards. See www.japanesespitz.com.au which has been retained to honour Hilary's contribution to the breed.
Hilary's FREQUENTLY ASKED QUESTIONS (FAQs) are also acknowledged here as standing the test of time and useful for all those interested in purchasing a Japanese Spitz. You will also see the forebears of my breeding stock.
A third bitch line (evolved in part from one of the original lines outcrossed with a sire from Norway) came into place in our breeding in 2011.
I occasionally show my dogs (but not as often as in the past as I have a painful & nasty neck injury which affects my abilities in this area). However, our pups are bred to be shown and to be the best companions possible - they are showdogs 1% of the time & great companions the rest of the time. Other kennels have shown stock down from some of our dogs and we acknowledge their successes in the ring.
My interest in breeding is both academic and practical and I aim to breed Japanese Spitz whose relatives in 50 years time will be healthy and strong dogs with great temperaments and a delight to live with - as now.
** Photos on our website are not to be copied **.
154364 Visitors